CMF CURO met with President Trump at the White House for a listening session on health care reform on March 13!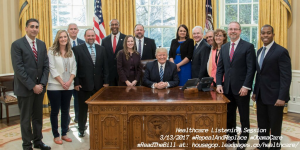 Read the Daily Signal's
coverage
of the listening session with President Trump on health care reform at the White House March 13!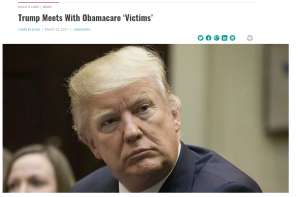 Listen to our director Louis Brown and Mike O'Dea of the Christ Medicus Foundation on EWTN's
coverage
of the 2017 March for Life in Washington D.C.!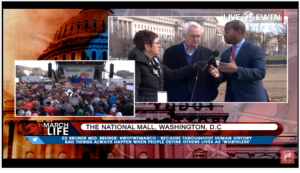 Listen to Louis Brown on Ave Maria Radio and EWTN's Catholic Connection with Teresa Tomeo speak about health care and the new presidential administration. Listen
here
!
CMF CURO on EWTN Radio, Morning Glory, starting at 46:30.
---
Watch our director Louis Brown speak about conscience protections in health care on EWTN's News Nightly on January 18! Click the image to watch now!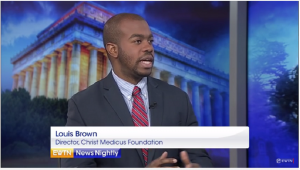 ---
Read the latest news on CMF CURO and health sharing by
Aleteia
.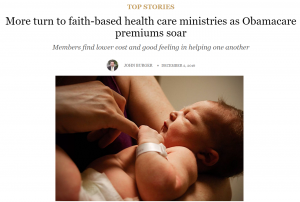 ---
Coverage of our Nov. 2, 2016 Press Panel "The Changing Face of Health Care and the 2016 Election" in D.C.:
The Health Care Plan That Promises to Protect Your Religious Beliefs
---
Coverage of our Nov. 2 Press Panel: The Role of Catholics in Rescuing Health Care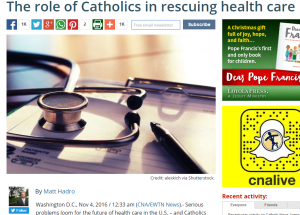 The Catholic News Service covers our Nov. 2 event! Read here.
---
Take action now to directly advocate for the protection of religious liberty in health care.
As certain recent judicial decisions and government administrative determinations have shown, the freedom of conscience in the culture of health care is being challenged across the country. The right of conscience is a fundamental freedom of man and a natural right upon which the Declaration of Independence and the U.S. Constitution was founded upon. It is vitally important that we as a Catholic community pray and advocate for laws, regulations, and judicial decisions that protect religious liberty.
To view a press release on the legislation, click here.
---
Something Healthier: Christians get intentional about health care.
An NRO Interview with Kathryn Jean Lopez
"This community model seeks to be a radically different approach to health care and insurance, fostering solidarity in prayer and practice."

Kathryn Jean Lopez, National Review Online
---
Listen to Louis Brown on "The Shepherd's Voice" in an interview with Archbishop Naumann of Kansas City!
Health Care Sharing podcast
 Read about CMF CURO in "The Leaven," the newspaper of the Archdiocese of Kansas City
"Think about the Gospels and how the Apostles lived," said CMF CURO director Louis A. Brown Jr. at the program's Washington, D.C., debut. "They very much shared and cared for each other. And we're saying: 'Catholics, you can do that too."
---
EWTN's coverage of the March for Life 2016! Watch CMF CURO director at the 4 hour 17 minute mark!
---
 Groundbreaking New Catholic Health Care
Ave Maria Radio, Kresta in the Afternoon.
Described as a perfect fit for the uninsured, self-employed and small business owners.
---
New Catholic Health Initiative Provides Alternative to Obamacare Insurance
National Catholic Register
Catholics now have a new alternative to the escalating financial and moral predicaments of health insurance under Obamacare, with the creation of the first-ever Catholic health-care sharing ministry.
---