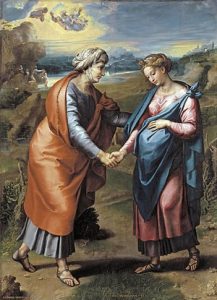 Thursday, May 31, 2018

READ:
Mary set out and traveled to the hill country in haste to a town of Judah, where she entered the house of Zechariah and greeted Elizabeth. When Elizabeth heard Mary's greeting, the infant leaped in her womb, and Elizabeth, filled with the Holy Spirit, cried out in a loud voice and said, "Most blessed are you among women, and blessed is the fruit of your womb. And how does this happen to me, that the mother of my Lord should come to me? For at the moment the sound of your greeting reached my ears, the infant in my womb leaped for joy. Blessed are you who believed that what was spoken to you by the Lord would be fulfilled." And Mary said: "My soul proclaims the greatness of the Lord; my spirit rejoices in God my Savior, for he has looked with favor on his lowly servant. From this day all generations will call me blessed: the Almighty has done great things for me, and holy is his Name. He has mercy on those who fear him in every generation. He has shown the strength of his arm, he has scattered the proud in their conceit. He has cast down the mighty from their thrones, and has lifted up the lowly. He has filled the hungry with good things, and the rich he has sent away empty. He has come to the help of his servant Israel for he has remembered his promise of mercy, the promise he made to our fathers, to Abraham and his children for ever." Mary remained with her about three months and then returned to her home.
–Luke 1:39-56
REFLECT:
In the visitation, Mary brings Jesus to Elizabeth and John the Baptist. She has performed the same deed for each of us. As the new Ark of the Covenant, she carried the Lord within her and brought Him into the world. For this, we should all be thankful. Mary, in turn, directs us towards the Lord and not herself in the Magnificat. Just as she does, let us allow our souls to proclaim the greatness of the Lord, and ponder the Gospel in our hearts.
RESPOND:
Today, please pray a rosary in thanksgiving for Mary's yes, asking that she intercede with her Son so that we may be as docile and open to God's will as she was, so that He might bring about His will through us.
Today's Health Challenge: Relax

As the week comes to an end, make sure that you relax your mind and body from the past week. Try to relax for 20min today!
Get this in your inbox | More information about CURO
CMF CURO is the country's first Catholic health sharing experience. Together with the health sharing ministry Samaritan Ministries International, CMF CURO offers an affordable, Christ-centered alternative to health insurance that is fully consistent with the Catholic faith