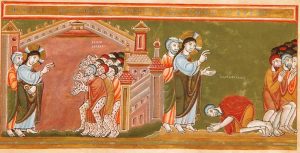 Wednesday, November 14, 2018

READ:
As Jesus continued his journey to Jerusalem, he traveled through Samaria and Galilee. As he was entering a village, ten lepers met him. They stood at a distance from him and raised their voice, saying, "Jesus, Master! Have pity on us!" And when he saw them, he said, "Go show yourselves to the priests." As they were going they were cleansed.  And one of them, realizing he had been healed, returned, glorifying God in a loud voice; and he fell at the feet of Jesus and thanked him.  He was a Samaritan. Jesus said in reply, "Ten were cleansed, were they not? Where are the other nine?  Has none but this foreigner returned to give thanks to God?"  Then he said to him, "Stand up and go; your faith has saved you."
–LK 17:11-19
REFLECT:
Out of all ten, only the foreigner returned. The one who was outcast an outcast to Jesus' people was the only one who returned to the Savior in gratitude. Perhaps the Samaritan was open to the possibility of Jesus as the Messiah as he did not have expectations of who the Messiah would be. How often do our own perceptions and expectations of God prevent us from seeing His work in our very lives? How often do we limit God in our own minds and take away our own hope?
RESPOND:
Take some time today to journal in prayer. Write down the ideas you have of God in His works. What are some things you have been able to recognize that He has done in your life? Have you shown Him praise and gratitude for them? If not, how can you now and moving forward?
Today's Health Challenge: Refuel

Today, try and consume 2 servings of Dairy! Dairy is a great source of calcium and way to Refuel your body!
Get this in your inbox | More information about CURO
CMF CURO is the country's first Catholic health sharing experience. Together with the health sharing ministry Samaritan Ministries International, CMF CURO offers an affordable, Christ-centered alternative to health insurance that is fully consistent with the Catholic faith