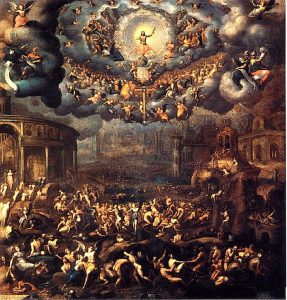 Thursday, November 15, 2018

READ:
Asked by the Pharisees when the Kingdom of God would come, Jesus said in reply, "The coming of the Kingdom of God cannot be observed, and no one will announce, 'Look, here it is,' or, 'There it is.' For behold, the Kingdom of God is among you." Then he said to his disciples, "The days will come when you will long to see one of the days of the Son of Man, but you will not see it. There will be those who will say to you, 'Look, there he is,' or 'Look, here he is.' Do not go off, do not run in pursuit. For just as lightning flashes and lights up the sky from one side to the other, so will the Son of Man be in his day. But first he must suffer greatly and be rejected by this generation."
–LK 17:20-25
REFLECT:
If the coming of the Kingdom of God could not be observed, then the Pharisees had no grounds to reject that the Kingdom is and was at hand through Jesus. Whenever the Pharisees questioned Jesus, their minds were usually made up before they questioned him. We do not know the hour when Jesus will return. But we live with the hope that He will return. In that hope we must always be ready for the return of the bride groom. For no one can tell us when He will come. There will be no warning.
RESPOND:
If Jesus came today are you ready? In your prayer today ask yourself this question. Think of ways you can better prepare yourself for the coming of Jesus. Find an accountability partner to help you eliminate the things in your life that may be drawing you away from Him and to do the things that bring you closer to Him. For when the time comes, we will want to be as close as possible to Him
Today's Health Challenge: Relax

As the week comes to an end, make sure that you relax your mind and body from the past week. Try to relax for 15min today!
Get this in your inbox | More information about CURO
CMF CURO is the country's first Catholic health sharing experience. Together with the health sharing ministry Samaritan Ministries International, CMF CURO offers an affordable, Christ-centered alternative to health insurance that is fully consistent with the Catholic faith