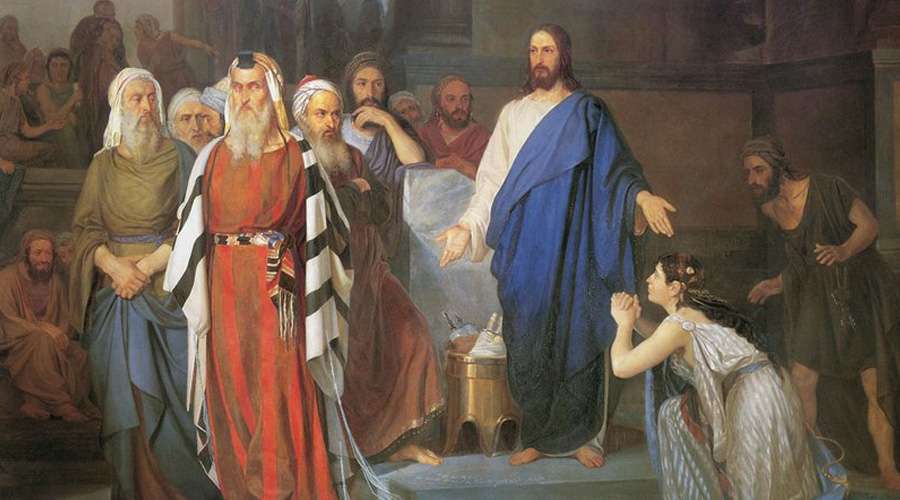 Sunday, April  7th, 2019
READ:
Jesus went to the Mount of Olives. But early in the morning he arrived again in the temple area, and all the people started coming to him, and he sat down and taught them. Then the scribes and the Pharisees brought a woman who had been caught in adultery and made her stand in the middle. They said to him, "Teacher, this woman was caught in the very act of committing adultery. Now in the law, Moses commanded us to stone such women. So what do you say?" They said this to test him, so that they could have some charge to bring against him. Jesus bent down and began to write on the ground with his finger. But when they continued asking him, he straightened up and said to them, "Let the one among you who is without sin be the first to throw a stone at her." Again he bent down and wrote on the ground. And in response, they went away one by one, beginning with the elders. So he was left alone with the woman before him. Then Jesus straightened up and said to her, "Woman, where are they? Has no one condemned you?" She replied, "No one, sir." Then Jesus said, "Neither do I condemn you. Go, and from now on do not sin any more."
-Jn 8:1-11
REFLECT:
In this gospel we encounter Jesus, who has before him a woman who has been publicly shamed, who has been objectified first by the man (or men) who used her and now by the pharisees as they seek to entrap Jesus. She has been stripped of her dignity and her humanity. No one is truly looking at her—they are reducing her to her sin, and to what she can do for them to accomplish their goals. Jesus is the only one to truly look at her. He bends down to her level and writes on the ground. What he writes, we do not know. Perhaps he is writing something that she alone can see—words from the book of Isaiah, found in the first reading: "Remember not the events of the past, the things of long ago consider not; see, I am doing something new" (Is 43:18-19). Maybe they are the words of God through Hosea who speaks to his wife, the harlot Gomer: "Therefore I am now going to allure her; I will lead her into the wilderness and speak tenderly to her….I will betroth you to me forever" (Hos 2:14; 19). What we do know is that Jesus sees her. He lifts her up. He recognizes her dignity and her woundedness. He restores her, and he calls her to sin no more. Let us give thanks today for the Lord and his mercy to us!
RESPOND:
Try to spend 10 minutes in prayer asking God for the grace to see yourself the way that he sees you, and to be aware of God's love for you.
Today's Health Challenge: Rest
Sunday, the day of rest is here! Tonight try and go to bed at a time so you can get 7 hours of sleep.
Get this in your inbox | More information about CURO
CMF CURO is the country's first Catholic health sharing experience. Together with the health sharing ministry Samaritan Ministries International, CMF CURO offers an affordable, Christ-centered alternative to health insurance that is fully consistent with the Catholic faith