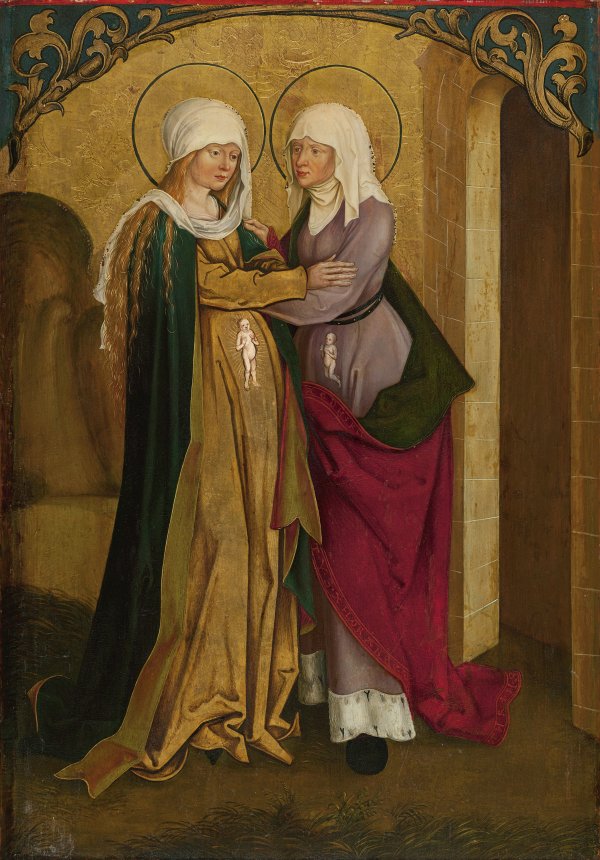 Friday, May 31, 2019

READ:
Shout for joy, O daughter Zion! Sing joyfully, O Israel! Be glad and exult with all your heart, O daughter Jerusalem! The LORD has removed the judgment against you, he has turned away your enemies; The King of Israel, the LORD, is in your midst you have no further misfortune to fear. On that day, it shall be said to Jerusalem: Fear not, O Zion, be not discouraged! The LORD, your God, is in your midst, a mighty savior; He will rejoice over you with gladness, and renew you in his love, He will sing joyfully because of you, as one sings at festivals.
–Zep 3:14–18a
REFLECT:
Today we celebrate the feast of the Visitation, when Mary visited her cousin Elizabeth, and she responded with the joy of the Holy Spirit. The reading from Zephaniah can be seen, perhaps, as a dialogue between God the Father and Mary, as well as with the whole people of Israel. Mary is to rejoice, and all of us should rejoice with her, because God has freely chosen to come to us, to save and redeem us. We have no more reason to fear, for God is with us and he will renew us with his love. The joy reflected in the Visitation is a cause of celebration for us all, and we should marvel at the love shown to us by God. We also ought to marvel at Mary's response of humility and wonder, expressed in the Magnificat. She was not a passive observer or a mere recipient of God's imposing will—a pawn in his plan. She was chosen, offered a gift, and freely chose to respond with the gift of herself offering her will, her life, and her plans to the Lord. Let us offer ourselves to him today as well!
RESPOND:
Following the tradition of the Church, pray the Angelus three times today—once in the morning, once at midday, and once in the evening—and try to make the words your own.
Angelus Prayer:
The Angel of the Lord declared to Mary:
R: And she conceived of the Holy Spirit.
Hail Mary…
Behold the handmaid of the Lord: Be it done unto me according to Thy word.
Hail Mary . . .
And the Word was made Flesh: And dwelt among us.
Hail Mary . . .
Pray for us, O Holy Mother of God, that we may be made worthy of the promises of Christ.
Let us pray:
Pour forth, we beseech Thee, O Lord, Thy grace into our hearts; that we, to whom the incarnation of Christ, Thy Son, was made known by the message of an angel, may by His Passion and Cross be brought to the glory of His Resurrection, through the same Christ Our Lord.
Amen.
Today's Health Challenge: Resolve

Today, resolve to find and start reading a book that will help deepen your faith and your understanding of it. Spend at least 15-20 minutes a day reading it.
Get this in your inbox | More information about CURO
CMF CURO is the country's first Catholic health sharing experience. Together with the health sharing ministry Samaritan Ministries International, CMF CURO offers an affordable, Christ-centered alternative to health insurance that is fully consistent with the Catholic faith