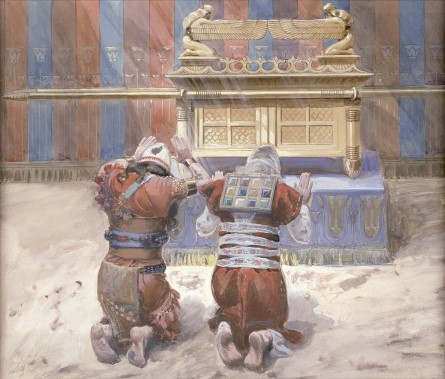 Friday, June 14, 2019

READ:
Brothers and sisters: We hold this treasure in earthen vessels, that the surpassing power may be of God and not from us. We are afflicted in every way, but not constrained; perplexed, but not driven to despair; persecuted, but not abandoned; struck down, but not destroyed; always carrying about in the Body the dying of Jesus, so that the life of Jesus may also be manifested in our body. For we who live are constantly being given up to death for the sake of Jesus, so that the life of Jesus may be manifested in our mortal flesh. So death is at work in us, but life in you. Since, then, we have the same spirit of faith, according to what is written, "I believed, therefore I spoke," we too believe and therefore speak, knowing that the one who raised the Lord Jesus will raise us also with Jesus and place us with you in his presence. Everything indeed is for you, so that the grace bestowed in abundance on more and more people may cause the thanksgiving to overflow for the glory of God.
–2 COR 4:7-15
REFLECT:
If we are to share eternal life with Jesus, we must also share in His death. As Christians, the life that we carry within us does not spring forth from us. We are vessels of Christ Jesus. We hold Him, as he has given Himself to us in the gift of the Eucharist. This gift is total and full. We carry both His death and life. As we suffer in this world, we know that Jesus as also suffered. We as earthen vessels cannot sustain ourselves. It is only through the one who has overcome suffering and death that we can overcome it ourselves.
This is why reception of the Sacraments is vital to our mission to spread the Gospel and give life to the world. For without it we will grow weak and weary. We must always remember to give thanks to this gift and remember that it is not on our own accord that we are alive.
RESPOND:
Attend daily Mass this next week as much as you are able. Do so in order that you are enriched with the Sacrament of the Eucharist and are able to live the Gospel to the fullest. If you are not in the state of grace to do so, challenge yourself to visit the Sacrament of Reconciliation this weekend.
Today's Health Challenge: Resolve

Resolve to spend 15 minutes praying for the Lord to bless the person who most annoys you.
Get this in your inbox | More information about CURO
CMF CURO is the country's first Catholic health sharing experience. Together with the health sharing ministry Samaritan Ministries International, CMF CURO offers an affordable, Christ-centered alternative to health insurance that is fully consistent with the Catholic faith