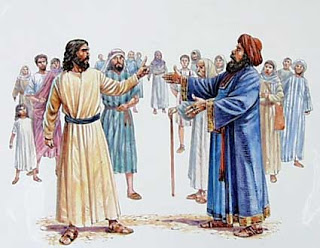 Monday, July 1, 2019

READ:
When Jesus saw a crowd around him, he gave orders to cross to the other shore. A scribe approached and said to him, "Teacher, I will follow you wherever you go." Jesus answered him, "Foxes have dens and birds of the sky have nests, but the Son of Man has nowhere to rest his head." Another of his disciples said to him, "Lord, let me go first and bury my father." But Jesus answered him, "Follow me, and let the dead bury their dead."
–Mt 8:18-22
REFLECT:
Today's gospel is Matthew's version of the same events portrayed in yesterday's passage. And here we are presented again with individuals who profess that they want to follow Jesus, and who are given in turn a challenge from the Lord. "Foxes have dens…but the Son of Man has nowhere to rest his head". When we think about "following Christ" do we put restrictions on what we are willing to give him, and where we are willing to let him lead us? Because truthfully, although we are in this world and part of this world, we are ultimately not made for this world. We are strangers and pilgrims in this earthly life, with no true place to lay our head. As St. Augustine so famously said, "You have made us for Yourself, and our hearts are restless until they rest in You". Our hearts will never feel fully at home in this world, and if we think that we can "tame" God and safely give him only a portion of our lives, we will continue in this unrest. This does not mean that we should retreat from the world or shun family, friends and the joys of this beautiful life we live. It does mean, however, that with our feet firmly planted on the ground we should turn our hearts and our gaze towards Heaven, and live our lives with this pilgrim spirit—with no permanent den or nest, and finding our rest only in Him.
RESPOND:
Take a walk today with a friend or your spouse and have a conversation about your ultimate destination and desires, and how you can live with more of a pilgrim spirit.
Today's Health Challenge: Rejuvenate

Today, try to preform 10 min of stretching today!
Get this in your inbox | More information about CURO
CMF CURO is the country's first Catholic health sharing experience. Together with the health sharing ministry Samaritan Ministries International, CMF CURO offers an affordable, Christ-centered alternative to health insurance that is fully consistent with the Catholic faith