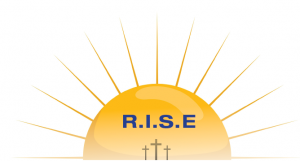 The R.I.S.E program is a concrete way of living our faith in health care which gently points others to the person of Jesus Christ and the Catholic Church.  It is a way of connecting health care and spirituality at their common reference point: Jesus Christ.
The program is the expression of our ministry's spiritual community through four main aspects: Reflection, Intercessory Prayer, Spiritual Retreats, and Education/Enrichment.
---
The goal of Reflection  is to encourage members to become intentional about reading the Word and meditating on its significance for their life and the life of their family. Faith comes, as we know, through hearing the Word and reflecting on it in the silence of our hearts. We hope to aid members in reflection through our own weekly Gospel meditations, spiritual audios, and through the Catholic resource FORMED.
FORMED is the Catholic resource of hundreds of movies, e-books, programs, and other media. FORMED is part of CMF CURO's mission to advance the spiritual health of the membership. Enjoy this resource to learn about and grow in your Catholic faith!
To gain access, log-in to your SMI Account and look for the FORMED icon and code.
Then go to www.formed.org and click "Register" using the provided access code.

---
The CMF CURO Team and membership participates in intercessory prayer for our community. We contact every CURO member who has a medical need, pray for and with them, and educated them about the sharing process.The method of prayer will be discerned based on: (1) The inspiration of the Holy Spirit, and (2) the preferences of the person being ministered to.
---
We offer Spiritual Retreats for our members at various times throughout the year, such as Advent and Lent. These retreats are accessible, attractive, and diverse. The Catholic resource FORMED that we provide for members also offers different retreats that members may take advantage of.
---
CMF CURO seeks to educate members about Catholic health care, the social teaching of the Church, health care legislation and policies, and other Catholic and cultural issues related to our ministry. We want to ensure that our members are not led astray by ideas, principles, or tendencies contrary to our faith. This education occurs through radio, video, writings, etc. Look for content soon!
Use the tabs to check out samples of this program, from Gospel meditations, podcasts, videos, FORMED, and other Catholic resources.
Log in to your CURO account here to access all the sections of the R.I.S.E program! 
Questions? Email us at info@christmedicus.org
Please rate this page!