CMF CURO Cost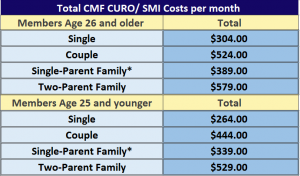 The CMF CURO monthly share total is comprised of two parts: 1) the Samaritan Ministries International(SMI) monthly share and, 2) CMF CURO Fund and management fee.
Members pay a set monthly amount every month that is shared and sent directly to other members for the coverage of medical needs.
New members are responsible for paying a one-time enrollment fee of $200 to SMI. During the first three months of membership, you may be asked to send your monthly share directly to SMI to help cover ministry management expenses. Existing members are responsible for sending one share per year (during the anniversary month of their joining) directly to SMI to pay for administration and management expenses.
Additionally, CMF CURO members are required to enroll in the SMI Save to Share Program and are responsible for setting aside an annual amount defined in the Costs Chart above.
For a complete breakdown of the $84 membership cost, please see Membership Benefits.
Detailed Cost Breakdown

Was this helpful? Leave a rating! 
(23 votes, average: 3.65 out of 5)


Loading...