CMF CURO director Louis Brown talks with President Donald Trump about pro-life health care, conscience rights, and religious liberty today at the White House! Watch the video clip!
Leader of #Catholic@CMFCURO speaks to @POTUS today about importance of life & healthcare workers' conscience rights pic.twitter.com/pN0Luv6rmv

— Jason Calvi (@jcalvi) March 13, 2017
(Video from Jason Calvi of EWTN)
Watch the full video here!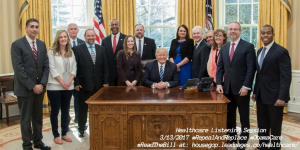 [ratings]