Catholic Health Ministries on the front lines at March for Life 
CMF CURO, Yellow Rose Sponsor at the World's Largest Pro-Life Event
On January 18, 2019, nearly 46 years after the US Supreme Court's Roe v. Wade decision, pro-life activists from all over the country flocked to Washington DC for the annual March for Life. The 2019 theme, Unique from Day one: Pro-Life is Pro-science emphasized the medical and technological proof that "science does in fact support the pro-life cause – that life begins at fertilization, or day one, when egg meets sperm and a new, unique, human embryo is created". This is the 4th year that CMF CURO, a Catholic health share ministry, has been a proud Yellow Rose sponsor of the world's largest pro-life event alongside other Catholic organizations including EWTN, Solidarity Health Share, and the Knights of Columbus to name a few.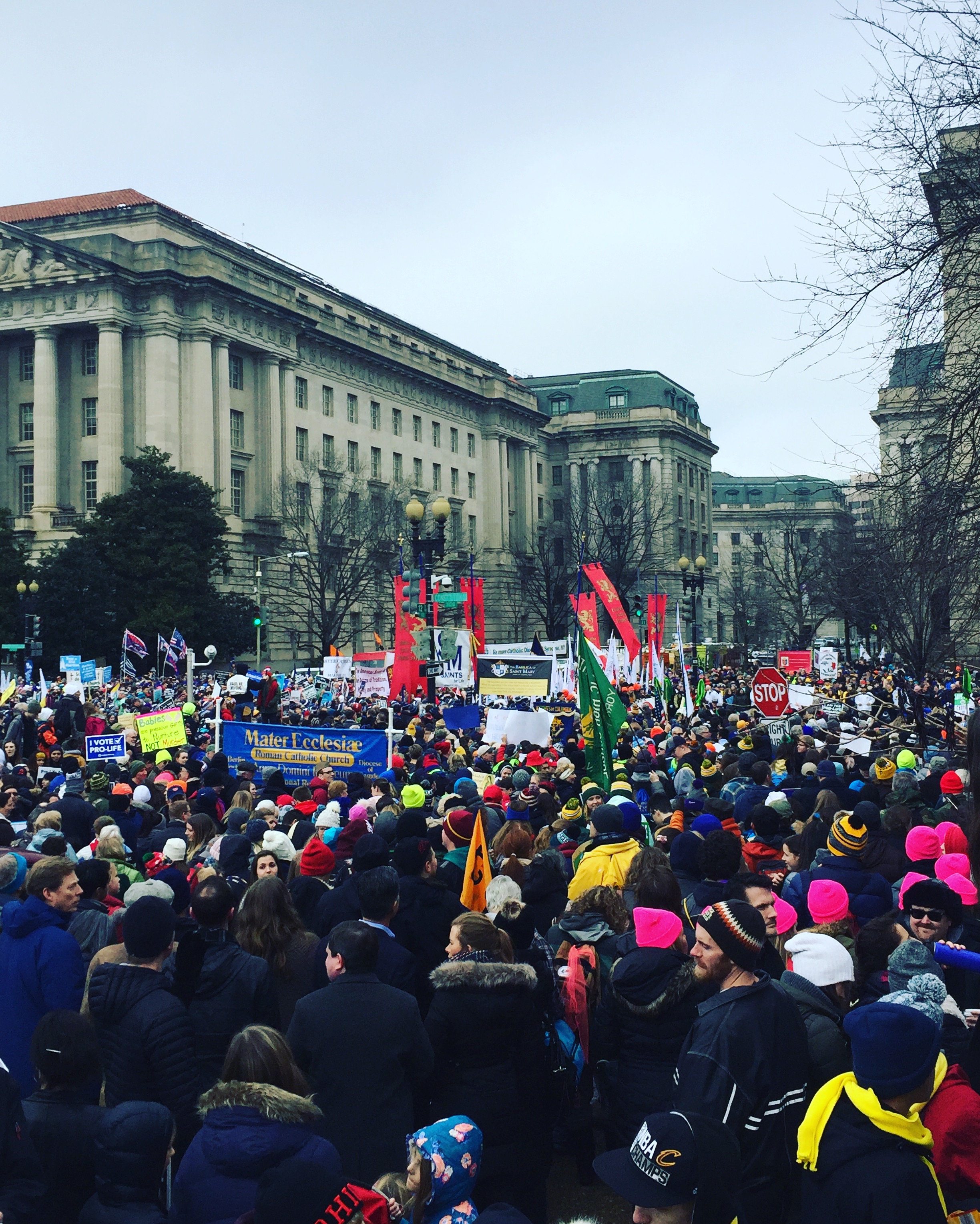 Pro-Life Catholic Health Care & The Cultural Shift
 Christ Medicus, CURO, and the Call for Reform
 Attracting Catholics and non-Catholics alike, the March for Life recognizes the Church's teaching on life issues and emphasizes the dignity and value of each individual life. Despite the March for Life's history and pro-life advocacy during the anniversary of Roe v. Wade, the 3rd annual Women's March took place the very next day in Washington DC, advocating for a Women's Agenda that "limits political interference with decision by private health insurance companies to offer coverage for abortion care," among other items. 
The Christ Medicus Foundation and CMF CURO recognize the importance of being present at the March for Life because pro-life issues like abortion and assisted suicide are more than political platforms–they are issues that directly impact religious autonomy and our culture as a whole. From medicine to law and end-of-life issues, the Christ Medicus Foundation and CMF CURO undertake it as their mission to educate and inform others, to work with like-minded groups to promote a culture of life, and to provide a pro-life, Catholic health care alternative. In a culture where legislation such as the Reproductive Health Act (RHA) in New York continue to pass, events like the March for Life provide a non-violent means to come together to protest injustices and promote a culture of Life in our country.
 The Need for Catholic Health Care Options
 Abortion, The Affordable Care Act, & My Catholic Healthcare
Though the Centers for Disease Control and Prevention (CDC) and the World Health Organization (WHO) exclude abortion in their national fetal-death statistics, in a report issued in 2018, the CDC estimates that as of 2015 the abortion ratio was 188 abortions per 1000 live births by mothers aged 15-54. Despite these troubling numbers and inconsistent, voluntary state reporting, many Catholics are unaware that a significant number of employer and state exchange sponsored health plans cover elective abortions. Though it may not be a willed or conscious choice on their part, participating in these plans in some way contributes to supporting procedures that are contrary to Church teaching. The website omabacareabortion.com provides consumers with an honest look at which state options cover elective abortions. This hidden fact has led many pro-life Catholics to search for alternatives to these options.  So what alternatives are available? 
 Cultivating A Culture of Life in Health Care
 CMF CURO – Catholic Health Care Sharing That Puts Your Values First
Backed by the Christ Medicus Foundation and powered by Samaritan Ministries International, CMF CURO formed in 2014 to provide a Catholic Health Care option to those searching for a solution that aligned with their pro-life values in compliance with the Affordable Care Act. CMF CURO is not insurance – it is a Catholic health sharing ministry that provides members with a Christ-centered path to actively invest in their whole health– spirit, mind, and body– in service to God, while also cultivating a culture of life in our health care system.