Each year on October 5th, the Church celebrates the feast day of Saint Faustina.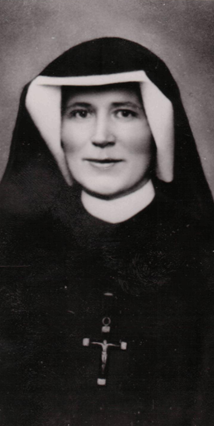 Saint Faustina (1905-1938) was a religious sister of the Congregation of Sisters of Our Lady of Mercy who received many visions and revelations from Our Lord and his mother, Mary. She kept a diary of ongoing visions and from it came The Devotion to Divine Mercy. Jesus instructed Saint Faustina to make known his infinite mercy to the world: to paint the image of Divine Mercy and to celebrate Divine Mercy Sunday on the Second Sunday of Easter. The Divine Mercy Chaplet comes from Saint Faustina's diary and through her, Christ instructs us all to be beacons of His mercy to the world. In the year 2000—upon Saint Faustina's canonization— Saint Pope John Paul II declared that the Second Sunday of Easter would be known as Divine Mercy Sunday.
Amidst our personal failures and the struggles of daily life it can be easy to forget that Christ desires a relationship with us. He wants us to come to him with our shortcomings and open ourselves to his merciful heart. When we let God work in us, we are fully alive! In times of sickness and injury Christ's mercy is needed more than ever. 
Optional Opening Prayers:
You expired, Jesus, but the source of life gushed forth for souls,
and the ocean of mercy opened up for the whole world.
O Fount of Life, unfathomable Divine Mercy,
envelop the whole world and empty Yourself out upon us.
(Repeat 3 times) O Blood and Water, which gushed forth from the Heart of Jesus as a fountain of Mercy for us, I trust in You!
Our Father, Hail Mary and the Apostle's Creed
For each of the five decades (On each "Our Father" bead of the rosary, pray)
Eternal Father, I offer you the Body and Blood, Soul and Divinity of Your Dearly Beloved Son, Our Lord, Jesus Christ, in atonement for our sins and those of the whole world.
(On each of the 10 "Hail Mary" beads, pray)
For the sake of His sorrowful Passion, have mercy on us and on the whole world.
Concluding prayer (Repeat 3 times)
Holy God, Holy Mighty One, Holy Immortal One, have mercy on us and on the whole world.
Optional Closing Prayer
Eternal God, in whom mercy is endless and the treasury of compassion inexhaustible, look kindly upon us and increase Your mercy in us, that in difficult moments we might not despair nor become despondent, but with great confidence submit ourselves to Your holy will, which is Love and Mercy itself.
Copyright © 2012, United States Conference of Catholic Bishops, Washington, DC. All rights reserved.
Mariah Buzza is an employee of the Christ Medicus Foundation and graduated from the University of California, Berkeley in 2018 with a Bachelor of Art degree in Political Science. She is currently pursuing a Master of Science degree in Clinical Mental Health Counseling from Divine Mercy University and resides in Pittsburgh, PA with her family. Mariah Buzza has been a victim of the sexual abuse crisis within the Catholic Church and uses her story to help others find healing through the teachings of the Church.