As the dog days of summer creep along, many are tempted to beat the heat by staying in the air-conditioned indoors. But these warm days are the perfect times to get active outdoors. In fact, even the saints enjoyed the outdoors and sporting. Even from the early ages, saints used sports to have fun, enjoy God's creation, and fulfill their own vocations.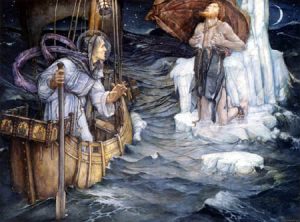 St. Brendan the Navigator is a Celtic saint from the 5th to 6th centuries. According to an old Irish tale, St. Brendan undertook a voyage across the Atlantic in a boat which he constructed himself. Though the canoe-like craft – a traditional Irish boat called a currach – seemed fragile, it carried St. Brendan and his crew on many adventures, possibly even reaching the Americas.
Though it debated whether the story is fact or fiction, St. Brendan is the patron saint of boatmen, mariners, and sailors. So when enjoying a day by the ocean or boating on a lake, ask for St. Brendan's intercession in navigating your own way to heaven.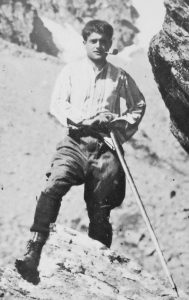 Bl. Pierre Giorgio Frassati is another saint who enjoyed the outdoors and spent many hours in physical activity. Though he died in 1925 when he was only 24, Bl. Pierre Giorgio was active physically and spiritually. He enjoyed hiking, mountain climbing, and skiing. One famous photo pictures Bl. Pierre Giorgio climbing a mountain; on the back of the photo, Bl. Pierre Giorgio himself wrote, "Verso L'Alto," meaning "toward the heights." It was his last climb, however, as he died only one month later. Nevertheless, "toward the top" remains motivation for the faithful now both in the active and spiritual lives.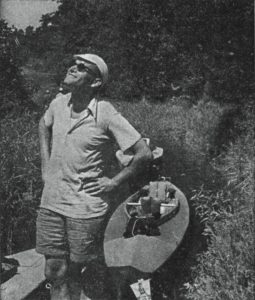 Pope St. John Paul II used outdoor activities to minister to his parishioners and live out his vocation. Before he was pope, Karol Wojtyla was a pastor in Krakow, Poland. He would go on long kayak trips with friends and parishioners during the summers, and he would use his overturned kayak as an altar on which to celebrate mass in the wilderness. It was during one of these kayaking expeditions that he was called back to Warsaw to become a bishop. When he became Pope John Paul II, he gave many pastoral addresses to athletes and sports teams. In one of these addresses, he proclaimed that the "sporting effort is a real school of true human virtue…In sport, in fact, virtue is victorious; and so everyone is victorious."
So whether boating, rock climbing, kayaking, or any other of the many sports that the summer days permit, let us, like these three sporty saints, always use physical activities to grow in virtue, glorify God, become saints ourselves, and be victorious.
Please rate this post!
[ratings]