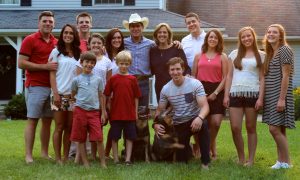 We live in a rural area outside of Toledo, Ohio. We have raised seven children here.
Mike is self-employed and health insurance costs were increasing and the coverage was rather minimal. We were unhappy at the thought of contributing to morally unacceptable procedures by paying our premiums.
We first heard about CMF CURO/SMI from our friends Mike & Peggy O'Dea. We were intrigued and as we learned more, were convinced that this ministry was perfect for our family.
We joined in June of 2015, excited to support others with their medical needs and to be a part of such a positive, wholesome and Christ centered approach to health cost sharing.
Little did we know that one short year later we would be on the receiving end of this wonderful ministry.
In June of 2016 Mike, who was the picture of health, suffered a heart attack while working outside our home. By the Grace of God, I had just returned home and was able to call 911.
Shocked and unnerved, I called Kate Allwein, our representative. She was so helpful and the entire process has been seamless. The website is very easy to navigate and the process to submit claims and acknowledge receipt of the financial gifts from members is well organized and easy to complete. The whole experience has been a beautiful testimony for our whole family of God's great providence. It has truly been inspiring.
Excerpts from note we have received:
"It is our privilege to help share the financial burden with you."

"May our great God bless you with improving health and may your relationship with Him grow deeper."

"May He surround you with His love and protection."
We have been amazed at the outpouring of Christian love, concern and heartfelt prayers and overwhelmed by the goodness and of our gracious Lord and His faithful servants. We are humbly accepting financial support from strangers whom we have come to believe truly are our brothers and sisters in Christ. We are exceedingly grateful that we are blessed to be in the CMF CURO Family.