Welcome to In the Know November! This month, we'll be focusing on the CMF CURO Health and Wellness Tools available to all members. Utilizing these tools will keep you in the know about your health and help you become the best version of yourself!
Have you checked out the health courses that are part of your CMF CURO membership? These courses are specifically designed to improve your bodily health and wellness.
Courses include Achieving a Healthier Weight, Begin a Simple and Healthy Fitness Program, A Guide to Women's Health, A Guide to Men's Health, Managing Stress, and more. Participating and completing courses can also earn your entry into quarterly and yearly raffle drawings for gift cards! Composed of short audio sections, texts, interactives, guides, and tests, these courses will help you reach your health goals and achieve Health Care Fully Alive.
Log-in to your CMF CURO Account and click "Courses" to get started!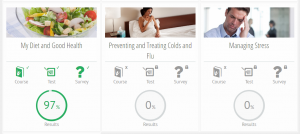 Stay in the know about your health! #IntheKnowNovember