The Gift of the Heart of Jesus
Sharing Yourself is an Act of Trust
We give ourselves to others in our lives in different ways and to different degrees. The smile you give to a stranger on the street is a much less intimate sharing than the sharing between you and your closest friend. Deep sharing of ourselves is scary and requires the presence of immense trust. It is an act of faith in the person you choose to share yourself with. Through the Devotion to the Sacred Heart, given to St. Margaret Mary Alocoque, Christ Himself puts an immense amount of faith in us by calling us to venerate his most adorable Heart.
A Devotion for Our Times
It should not be taken lightly that the God of the universe not only wants us to give Him our hearts, but also desires to give us His own heart in all its glory and beauty. Christ made this abundantly clear for the Church at a time when most feared God's wrath more than they desired unity with Him. In the 1700's, the Church in France was overtaken by a heresy known as Jansenism. Jansenism held that man's free will was essentially non-existent, and that men would always fall prey to concupiscence, regardless of free will. Jansenist thought led many in the Church to avoid the Sacraments, viewing God in light of His wrath with neglect for His mercy. 
It was in this context that Christ appeared to St. Margaret Mary Alocoque, petitioning her to make known His most Sacred Heart, burning with love and mercy. Through her, He requested that the faithful take part in specific devotions- among them being greater recourse to the Sacraments and entrustment to His Sacred Heart.
Much like the Jansenists in the 1700s, our culture today rejects its worth and thus rejects its identity in Christ. How could a culture that rejects the value of human life from the very moment of conception believe it is worthy of receiving the heart of the God of the Universe? How could a culture that not only accepts but encourages unrestrained and undirected sexual behavior (which is deeply intimate) believe it is worthy of the greatest gift ever given to mankind-the Sacred Heart of Christ? 
An Invitation to Divine Intimacy
In giving you His Heart, Christ is calling you to the deepest level of intimacy with Him. And intimacy with Christ always bears tremendous fruit. Perhaps a fruit of this intimacy will address the crisis of a culture that doubts the value of human life and longs for purpose. 
This devotion will not only give a redeeming witness to a culture that has lost its purpose and sense of self-worth, but will console the heart of Christ whose mercy and love are constantly rejected.
Prayer of Reparation to the Sacred Heart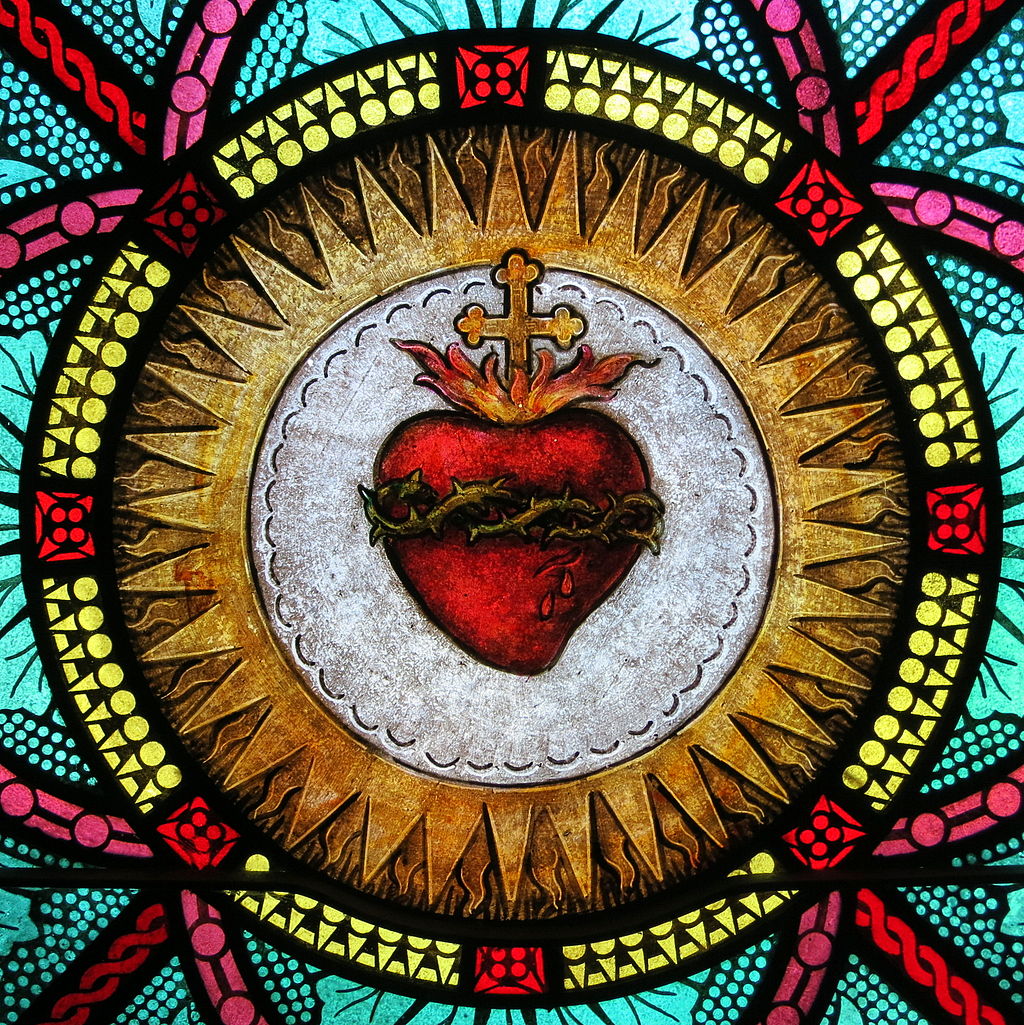 "Most sweet Jesus, whose overflowing charity for men is requited by so much forgetfulness, negligence and contempt, behold us prostrate before Thee, eager to repair by a special act of homage the cruel indifference and injuries to which Thy loving Heart is everywhere subject.
Mindful, alas! that we ourselves have had a share in such great indignities, which we now deplore from the depths of our hearts, we humbly ask Thy pardon and declare our readiness to atone by voluntary expiation, not only for our own personal offenses, but also for the sins of those, who, straying far from the path of salvation, refuse in their obstinate infidelity to follow Thee, their Shepherd and Leader, or, renouncing the promises of their baptism, have cast off the sweet yoke of Thy law.
We are now resolved to expiate each and every deplorable outrage committed against Thee; we are now determined to make amends for the manifold offenses against Christian modesty in unbecoming dress and behavior, for all the foul seductions laid to ensnare the feet of the innocent, for the frequent violations of Sundays and holydays, and the shocking blasphemies uttered against Thee and Thy Saints. We wish also to make amends for the insults to which Thy Vicar on earth and Thy priests are subjected, for the profanation, by conscious neglect or terrible acts of sacrilege, of the very Sacrament of Thy Divine Love; and lastly for the public crimes of nations who resist the rights and teaching authority of the Church which Thou hast founded.
Would that we were able to wash away such abominations with our blood. We now offer, in reparation for these violations of Thy divine honor, the satisfaction Thou once made to Thy Eternal Father on the Cross and which Thou continuest to renew daily on our Altars; we offer it in union with the acts of atonement of Thy Virgin Mother and all the Saints and of the pious faithful on earth; and we sincerely promise to make recompense, as far as we can with the help of Thy grace, for all neglect of Thy great love and for the sins we and others have committed in the past. Henceforth, we will live a life of unswerving faith, of purity of conduct, of perfect observance of the precepts of the Gospel and especially that of charity. We promise to the best of our power to prevent others from offending Thee and to bring as many as possible to follow Thee.
O loving Jesus, through the intercession of the Blessed Virgin Mother, our model in reparation, deign to receive the voluntary offering we make of this act of expiation; and by the crowning gift of perseverance keep us faithful unto death in our duty and the allegiance we owe to Thee, so that we may all one day come to that happy home, where with the Father and the Holy Spirit Thou livest and reignest, God, forever and ever. Amen."
(Source: sistersofcarmel.com)