The Body Makes Visible the Invisible
Have you ever wondered what our Trimester Health Challenges are about? At CMF CURO, we want you to be supported and to find community in ALL aspects of your health.  The goals of these Health Challenges are to create fun ways to foster community amongst our members by creating healthy challenges and competitions that integrate you as a human person: mind, body, and spirit. By participating, you have the opportunity to win prizes including a $500 VISA gift card!
 In Theology of the Body, St. John Paul II proclaimed, "The body, in fact, and only the body, is capable of making visible what is invisible: the spiritual and the divine. It has been created to transfer into the visible reality of the world, the mystery hidden from eternity in God, and thus to be a sign of it." As humans, we know we are both body and soul. The world today is in dire need of this truth: our body is capable of making visible the invisible. Through our personhood, we are able to bring God and to be an instrument of him to this world so desperately in need of his presence.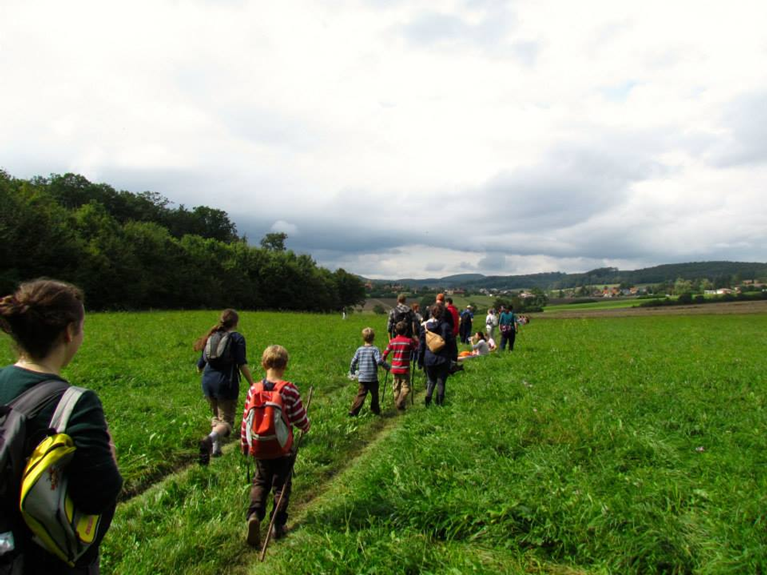 Our Virtual Pilgrimage
This Summer we have focused on our Heart Health by having a Pilgrimage Steps Challenge. We loved seeing the member participation, walking on our virtual pilgrimage through Europe. Summer is a great time to be reminded of the importance of physical activity in our lives. Research reveals how helpful exercise is in all areas, including mental health and spiritual health. I know for me, it is easier to pray when I have balance in other areas of my life!

The Transformational Power of Pilgrimage
As we conclude our Trimester challenge, I wanted to share briefly about the impact a walking pilgrimage had on my life. While in Graduate School, I had the opportunity to participate in a yearly pilgrimage to Heiligenkreuz, which is the second oldest Cistercian Monastery in the World, is located in Austria, and is named for its relic of the true Cross. Each year, hundreds of pilgrims from all over Austria journey through the woods, making their way to venerate this relic on September 14th, the feast of the exaltation of the Cross.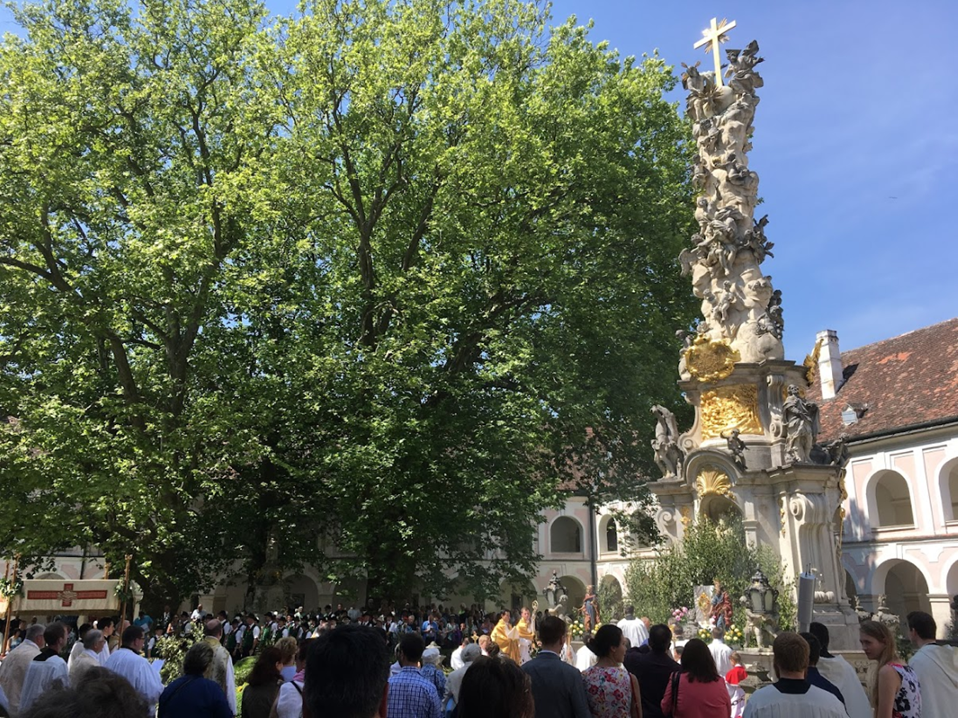 I was continuously astounded by the traditions and love that I experienced on this journey. The walk took our group about 6 hours, finally finishing at the monastery in time for mass. While this was a relatively small pilgrimage, I was brought into the prayer and mindset of the ancient tradition of pilgrimage. The journey is not always comfortable or easy, and often fraught with struggles such as hungry children, blisters, and sunburn. My first year, I was critiqued by some fellow hikers in German about my choice of shoes, as I was wearing sandals. Luckily, I didn't understand German at the time, so I didn't understand their criticism!
On a pilgrimage, you know your end goal. You are walking with Christ with the intention of growing deeper in your relationship with Him. You are walking with the goal of going to a physical location with deep meaning, which points you to the reality that you are made for eternal life with Him. The beauty of a pilgrimage is that our body, our human body, with all of its frailties and also, most importantly, all its strength, gets us to this place. What a beautiful reminder of the dignity of the human person!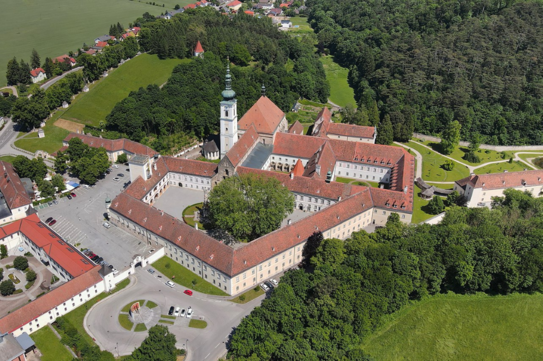 We are a Pilgrim People
Pilgrimages (coming from the latin peregrinus meaning someone on a journey) have been a part of Catholic tradition since the early Church. St. Helen went to the Holy Land in 324 AD to venerate the ground where Christ walked. It was there that she found the True Cross. Walking pilgrimages gained popularity in the Middle Ages, often taking years to complete, along treacherous routes. (If you are interested in learning more, watch Triduum: A Spiritual Pilgrimage on Formed.) A pilgrimage was a way of undergoing in miniature the path of the Christian life. We are on a journey, mindful of our current state but with eyes fixed to the future, to Heaven. We are called to live in this world, but not to be weighed down by it. We are to be "the leaven to society", as Pope Francis reminds us. Just as Christ gave us the Sacraments to reveal visibly an invisible reality, we can partake and learn about our ultimate end and the journey of the Christian Life through partaking in an earthly pilgrimage.
Live Like a Pilgrim!
As we finish this second Trimester, we would like to invite you and your family to embark on a personal pilgrimage. You do not need to travel to the Holy Land, the Camino de Santiago, or Croagh Patrick (just to name a few) to take this journey. There are so many beautiful Churches, Shrines, Chapels and pilgrim sites across America that you can visit as a family. If you google local Churches (such as a local St. Joseph Shrine during this year of St. Joseph) you will be sure to find a place to visit.
We invite you to enter this tradition of the Church. Schedule a personal pilgrimage, and make sure to take pictures along the way and when you arrive. We would love to hear about your experience! Please send your photos and pilgrim destinations to us at [email protected]