Focus on Fruits and Veggies!
Throughout the year, CMF CURO offers curated health courses and challenges to help members focus on various aspects of their health and wellbeing. For CMF CURO Members, the third trimester of the year has officially begun! While the trimester as a whole runs until January, from now until November 7th members can log on to their member portal and submit their daily fruits and veggie servings under the "Challenge" tab. By completing this challenge, members can earn a raffle entry for a chance to win a $500 visa gift card.
To help with your healthy fruits and veggie's challenge, here is a recipe for Pumpkin Bread[1]. Did you know pumpkin is considered a fruit? This recipe is delicious and naturally gluten free and dairy free.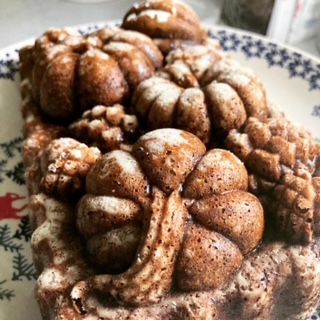 Gluten Free & Dairy Free Pumpkin Loaf
Ingredients:
2/3 cup of pumpkin puree
1 cup of almond flour
½ cup honey or maple syrup
2 large eggs, lightly beaten
1 tsp cinnamon
½ tsp allspice
1 tsp ginger (optional)
1 tsp vanilla
Tad of salt
1 tsp baking soda
Gluten free flour for dusting*
Directions:
Heat oven to 350 ℉. Spray and flour (using the gluten free flour) a loaf pan.
In a large mixing bowl, whisk together almond flour, pumpkin, honey/or maple syrup, eggs, cinnamon, ginger, allspice, vanilla, salt, and baking soda. Whisk until smooth.
Transfer the batter to the loaf pan (I used a beautifully decorated pan from Nordic Ware. To make sure the bread doesn't stick to the pan, it's essential you lightly flour the pan).
Bake for about 35 – 40 minutes, until a toothpick tester comes out clean.
Remove from oven and place a clean dishtowel on top for about 10 minutes to help loosen it from pan.
Let cool for another 5-10 minutes before transferring to a wire rack.
Enjoy (in moderation) this festive fall loaf! You can find the wonderful loaf pan I used here at Williams Sonoma.
---
[1] Inspired by recipe by Nicole Spiridakis in cookbook flourless.