Winter has come and gone, and spring has begun to bloom. All around us, the earth is showing signs of new hope, new beginnings, and new life. For many of us it is the time of year where we will begin preparation for our plants, gardens, and landscapes. Early springtime is a time of witnessing the continued growth and the thriving of previous works to our gardens. While we are preparing to Renew, Return, and Grow our gardens and faith , make sure to take a moment to look around and appreciate the work you have done overtime for both your faith and your gardens. Reflect on your faith as a garden cultivated for the Lord. Use this time to admire the beauty around you that is the result of hard work and care that you have given.
A Garden of Hope: The Divine Mercy Chaplet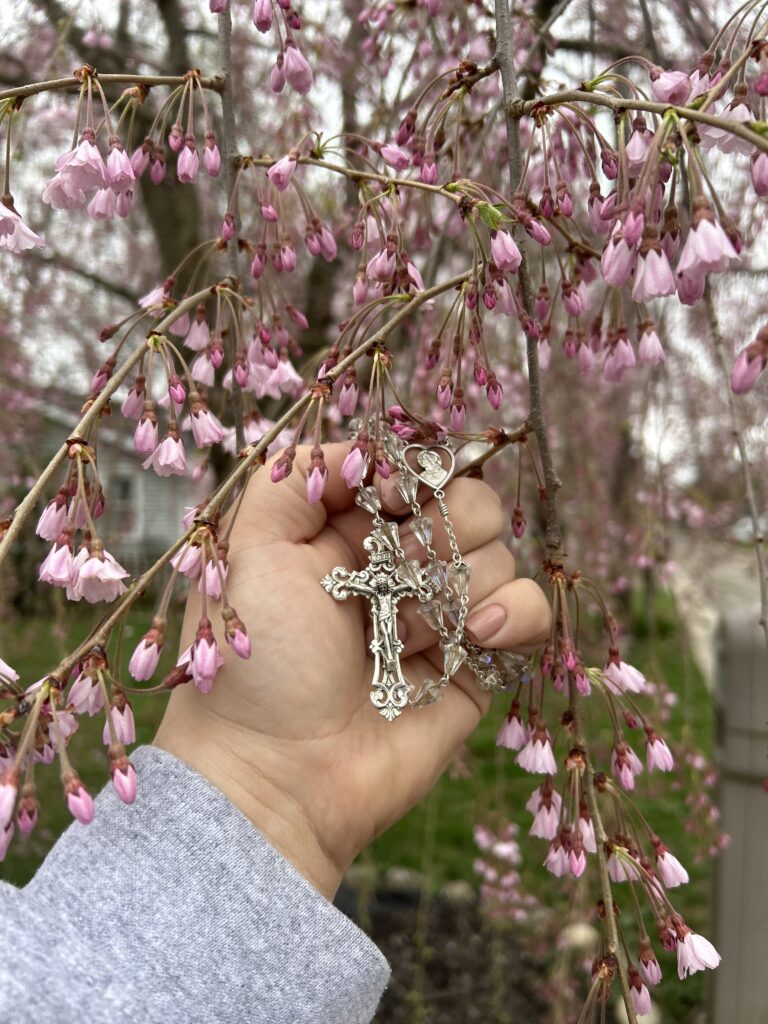 See how your garden is a garden of Hope. You have laid the groundwork and prepared the soil to be the best it can be by your hands. Everything has been done to your best ability to create a thriving environment for your seeds and plants. The feeling of Hope now appear as you say that little prayer that the plants will grow and survive; that all you have done was enough for a successful garden. Year after year you hope your perennial plants will bloom again.

Sometimes when I have doubts or I am in despair and I need hope, I find myself thinking about the Divine Mercy Chaplet. For my prayer life and faith journey, this form of prayer has become a beacon of hope. One of the messages Jesus gave to St. Faustina (who Jesus revealed the Chaplet of the Divine Mercy to) was that the Chaplet can be a "hope of salvation." On occasion I have found myself praying the chaplet while placing new plants into the earth and hoping that the perennial plants also bloom. You can create A Garden of Hope with guidance from the Divine Mercy Chaplet.
A Garden of Tears: Our Lady of Sorrows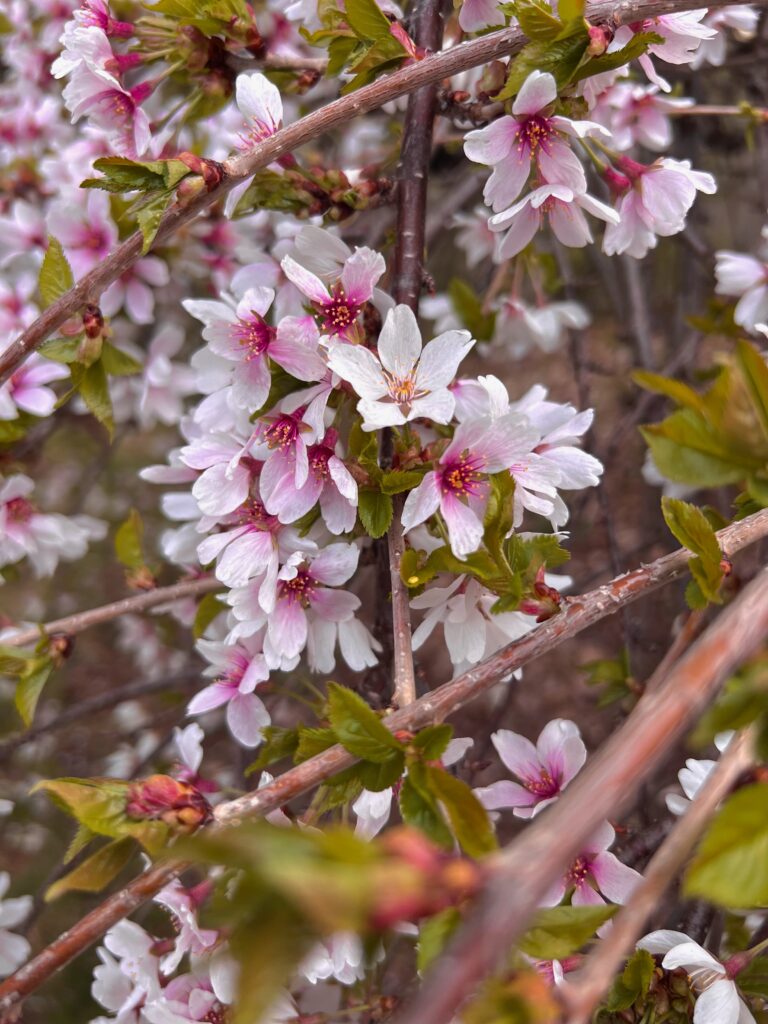 At times, perhaps Your garden is a garden of tears. After giving all that you can give to planting and tending your garden, sometimes it doesn't turn out the way we wanted it. Maybe the flower you were hoping to bloom didn't. The vegetables you planted and were about to harvest were eaten by a rabbit. A storm came through and your garden didn't survive. Perhaps nothing grew successfully at all, a year with no fruit to harvest. Moments like this fill us with frustration, sadness, and disappointment. Tears from these emotions sometimes fall to attempt to restore the spirit of the soil within us.

Over the years I have had many seeds fail to sprout, plants that have died in the middle of the season, and even a garden completed destroyed by nature. Tears have fallen from a mixture of emotions over the years from both my gardening and my faith journey. Time and time again obstacles that we create and hindrances from around us cross our path in our faith journey, often bringing us to tears. In times of sorrow and frustration in my faith, the image of Our Lady of Sorrows appears in my mind, and I am reminded of the sadness of our lady. Our Lady of Sorrows invites us to come to her to unite our suffering to hers and in doing so we can receive beautiful graces of solace and strength. Next time you are experiencing frustration with your garden or sadness in your faith, turn to our Lady of Sorrows and give your garden of Tears to her.
A Garden of Love: Sacred Heart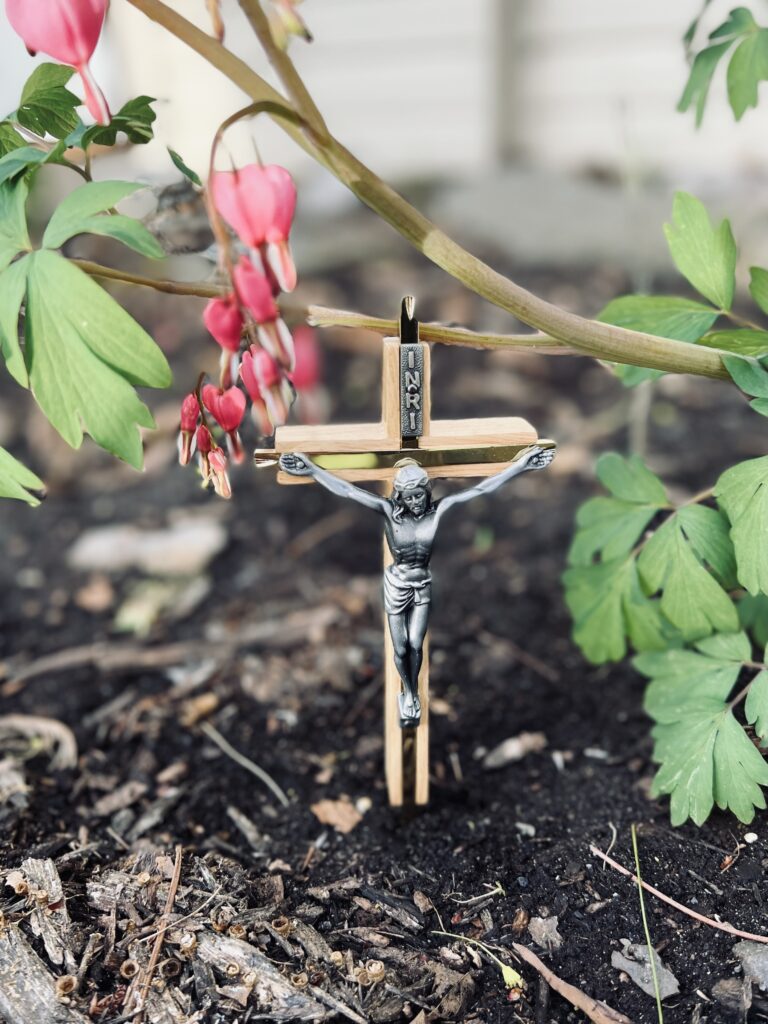 Cultivate Your garden as a garden of love. The garden you have is a reflection of your love for it. The time you took to prepare, the time you took to care, the time you took to admire, and the time you made changes for the better of it are all fruits of love. You may not see the results or changes immediately, but all these actions are signs of love. There may be seasons when your tulips do not sprout or your bleeding hearts don't bloom and sometimes love will be shown in different ways. Even when the results are not what you had expected, they happened for a reason, and we must believe that in the end it will become what it was meant to become when surrendered in love to Our Lord.

For many Catholics, we give Jesus an intention to his most Sacred Heart, praying for the intention to be seen by the Father, covered with his precious blood, and to be cared for by him. We are asking Jesus to love us with his open and most Sacred Heart, placing all our trust in him. Our faith asks us to love Jesus and to trust that he will walk with us on our journey. Sometimes along that journey we will fail and in those times of failure we can learn to try again and again, remembering the love that Jesus' most Sacred Heart has for us is an eternal love. Gardens of love will always flourish and will inspire you throughout your life.
A Garden of Prayer: The Rosary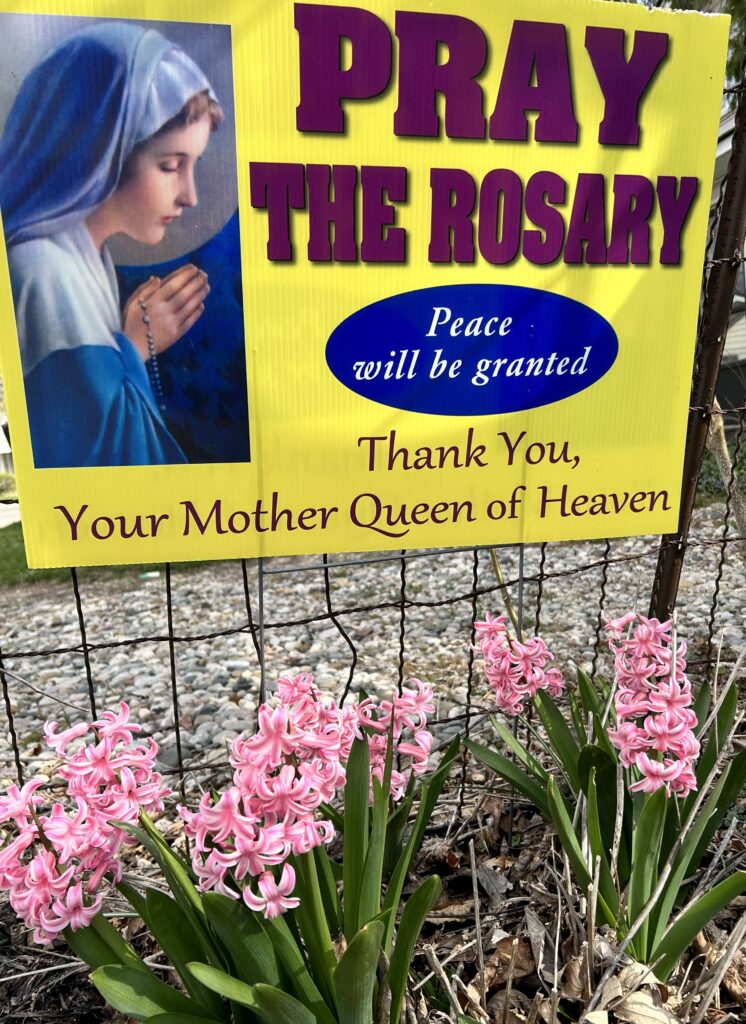 Above all, Your garden is a garden of prayer. There is a section of my garden that is dedicated to the blessed mother where a statue of her and a rosary sign have been placed to remind me that my garden is a garden of prayer. It has become a practice to stop by that section to pray before tending to my garden and plants. In the beginning I used to pray a Hail Mary and a Hail Holy Queen, but for the past two years I have found myself praying not only when I first start, but the entire time I am in my garden. The rosary has become the main form of prayer when working with the plants, harvesting the vegetables, and marveling at flowers and trees around me.
The type of prayer you choose may be different and I encourage you to reflect on your faith. Find that form of prayer that fills your heart with reconciliation, peace, and helps you grow both your faith and your garden of prayer.
We can admire the beauty of previous works and remember the hope, tears, love, and prayer that went into the creation of our gardens. Remembering that we need to apply that to our journey living the Catholic faith. Many of us begin our journey at different points in our lives and at different levels of devotion. Do not feel discouraged if you are not at the same spiritual place as those around you. The amount of work and love you put into your faith will bloom in due time and you will be able to wander and gaze upon your own garden of faith.