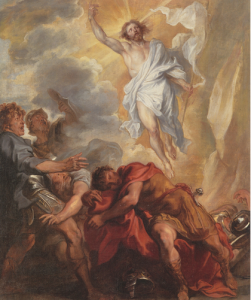 EASTER SUNDAY, APRIL 1st 2018
John 20:1-9
On the first day of the week, Mary of Magdala came to the tomb early in the morning, while it was still dark, and saw the stone removed from the tomb. So she ran and went to Simon Peter and to the other disciple whom Jesus loved, and told them, "They have taken the Lord from the tomb, and we don't know where they put him." So Peter and the other disciple went out and came to the tomb. They both ran, but the other disciple ran faster than Peter and arrived at the tomb first; he bent down and saw the burial cloths there, but did not go in. When Simon Peter arrived after him, he went into the tomb and saw the burial cloths there, and the cloth that had covered his head, not with the burial cloths but rolled up in a separate place. Then the other disciple also went in, the one who had arrived at the tomb first, and he saw and believed. For they did not yet understand the Scripture that he had to rise from the dead.
The Lord has risen, let us rejoice! In the early morning shadows of that first Easter Sunday, the sorrow of Mary of Magdala and the Disciples becomes first confusion, then awe, and finally rejoicing at the appearance of the Risen Lord. Our lives here on earth are so often filled with tears confusion, but we must fix the gaze of our hearts on the Lord who is truly risen, and be constantly renewed in joy and hope. As Pope Benedict so beautifully said in his 2011 Easter message:
"Dear brothers and sisters! The risen Christ is journeying ahead of us towards the new heavens and the new earth (cf. Rev 21:1), in which we shall all finally live as one family, as sons of the same Father. He is with us until the end of time. Let us walk behind him, in this wounded world, singing Alleluia. In our hearts there is joy and sorrow, on our faces there are smiles and tears. Such is our earthly reality. But Christ is risen, he is alive and he walks with us. For this reason we sing and we walk, faithfully carrying out our task in this world with our gaze fixed on heaven."
CMF CURO's prayer for you, at the end of this Lenten journey, is that you always be filled with the Peace and Joy of Jesus Christ, and allow him to transform your tears into dancing!
Get this in your inbox | More information about CURO
CMF CURO is the country's first Catholic health sharing experience. Together with the health sharing ministry Samaritan Ministries International, CMF CURO offers an affordable, Christ-centered alternative to health insurance that is fully consistent with the Catholic faith