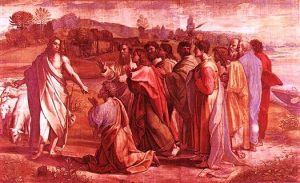 Sunday, August 26, 2018

READ:
Many of Jesus' disciples who were listening said, "This saying is hard; who can accept it?" Since Jesus knew that his disciples were murmuring about this, he said to them, "Does this shock you? What if you were to see the Son of Man ascending to where he was before? It is the spirit that gives life, while the flesh is of no avail. The words I have spoken to you are Spirit and life. But there are some of you who do not believe." Jesus knew from the beginning the ones who would not believe and the one who would betray him. And he said, "For this reason I have told you that no one can come to me unless it is granted him by my Father." As a result of this, many of his disciples returned to their former way of life and no longer accompanied him. Jesus then said to the Twelve, "Do you also want to leave?" Simon Peter answered him, "Master, to whom shall we go? You have the words of eternal life. We have come to believe and are convinced that you are the Holy One of God."
–Jn 6:60-69
REFLECT:
The teachings of Christ and the Church are not easy to accept. We are challenged to walk by faith, to overcome our natural inclination to sin and our desire for security, and to trust fully in Him. We don't have to look very far to find many who have "returned to their former way of life" and no longer live a life of grace or seek holiness. When we are confronted with the challenges of the Gospel, and the challenge of accepting God's plan in faith we must also respond like Peter: "Lord, to whom shall we go?". Christ alone has what we search and long for, and he alone has the words of life!
RESPOND:
Pray the Creed slowly, asking for a renewal of your faith in Christ and the Church
Today's Health Challenge: Rest

Sunday, the day of rest is here! Tonight try and go to bed at a time so you can get 7 hours of sleep.
Get this in your inbox | More information about CURO
CMF CURO is the country's first Catholic health sharing experience. Together with the health sharing ministry Samaritan Ministries International, CMF CURO offers an affordable, Christ-centered alternative to health insurance that is fully consistent with the Catholic faith