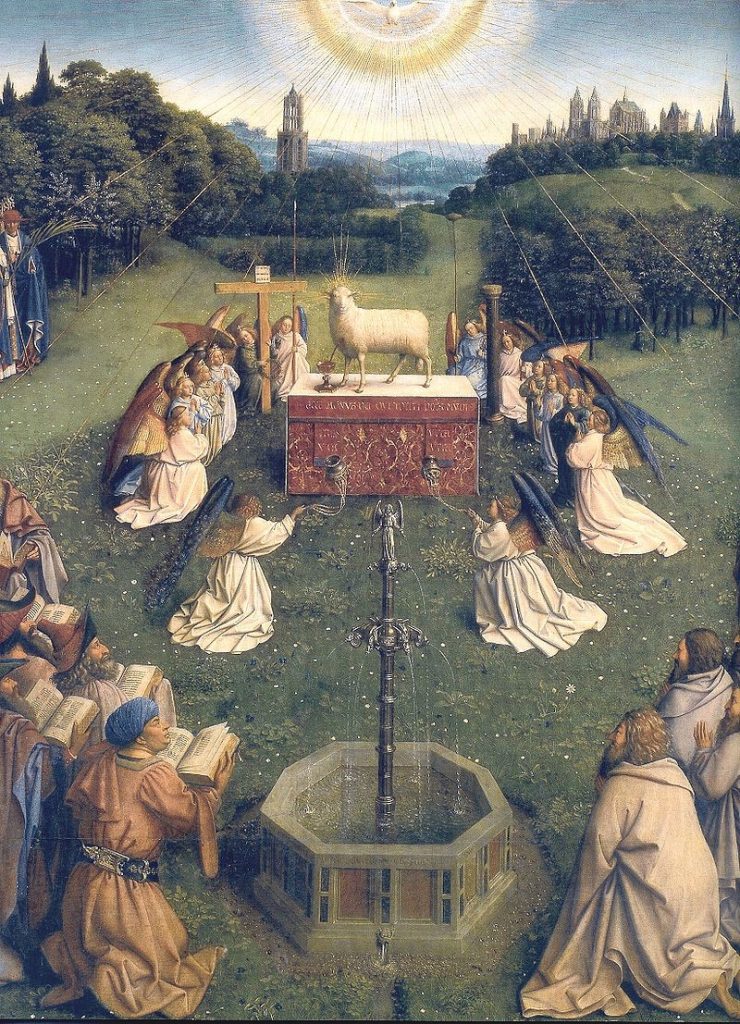 Thursday, January 3, 2019

READ:
John the Baptist saw Jesus coming toward him and said, "Behold, the Lamb of God, who takes away the sin of the world. He is the one of whom I said, 'A man is coming after me who ranks ahead of me because he existed before me.' I did not know him, but the reason why I came baptizing with water was that he might be made known to Israel." John testified further, saying, "I saw the Spirit come down like a dove from the sky and remain upon him. I did not know him, but the one who sent me to baptize with water told me, 'On whomever you see the Spirit come down and remain, he is the one who will baptize with the Holy Spirit.' Now I have seen and testified that he is the Son of God."
–John 1:29-34
REFLECT:
Jesus fulfills the prophecies of the Old Testament. Here, with the final prophet John the Baptist, Jesus fulfills the purpose of Baptism by allowing baptism with the Holy Spirit. But only just before this revelation, we see John refer to Jesus as the Lamb of God. This is a reference to the Passover lamb, the lamb that was slain and consumed to save Israel from slavery in Egypt. Similarly, Christ is slain and consumed to save His Church from slavery to sin and death. Baptism and the Eucharist are two of the bedrock foundations to our faith.
The importance of baptism cannot be overstated. We are all called to make disciples of all nations, and to help people be baptized. Christ would not have commanded this if it were not important. Hopefully everyone reading this is baptized, but not everyone in the world is. Let us be intentional in praying for those who are not, and help them to understand why it is important.
Furthermore, we need the Eucharist. If the importance of baptism cannot be overstated, then neither can the importance of the Eucharist. Through the Eucharist, we have eternal life, and it will help us on our journey to a heavenly home. Let us do all we can to receive it often, reverently, and to share His power with others.
RESPOND:
How many times are you able to receive the Eucharist weekly? Could you rearrange your schedule to go to mass more often? If you are not able to rearrange your schedule easily, be sure to make a daily act of spiritual communion and consider how you may be able to rearrange your schedule in the long-term. Take all of these to prayer.
Today's Health Challenge: Relax

As the week comes to an end, make sure that you relax your mind and body from the past week. Try to relax for 20min today!
Get this in your inbox | More information about CURO
CMF CURO is the country's first Catholic health sharing experience. Together with the health sharing ministry Samaritan Ministries International, CMF CURO offers an affordable, Christ-centered alternative to health insurance that is fully consistent with the Catholic faith