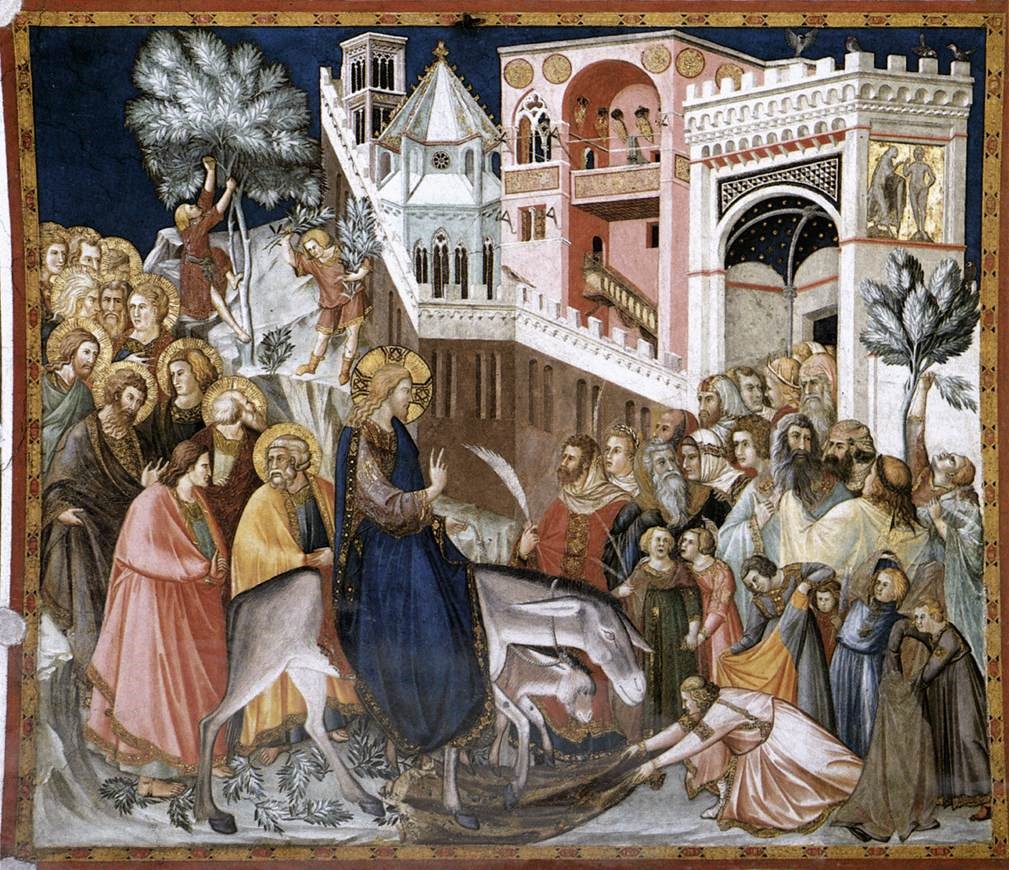 Sunday, April 14th, 2019
READ:
Jesus proceeded on his journey up to Jerusalem. As he drew near to Bethphage and Bethany at the place called the Mount of Olives, he sent two of his disciples. He said, "Go into the village opposite you, and as you enter it you will find a colt tethered on which no one has ever sat. Untie it and bring it here. And if anyone should ask you, 'Why are you untying it?' you will answer, 'The Master has need of it.'" So those who had been sent went off and found everything just as he had told them. And as they were untying the colt, its owners said to them, "Why are you untying this colt?" They answered, "The Master has need of it." So they brought it to Jesus, threw their cloaks over the colt, and helped Jesus to mount. As he rode along, the people were spreading their cloaks on the road; and now as he was approaching the slope of the Mount of Olives, the whole multitude of his disciples began to praise God aloud with joy for all the mighty deeds they had seen. They proclaimed: "Blessed is the king who comes in the name of the Lord. Peace in heaven and glory in the highest." Some of the Pharisees in the crowd said to him, "Teacher, rebuke your disciples." He said in reply, "I tell you, if they keep silent, the stones will cry out!"
-Luke 19:28-40
REFLECT:
Jesus enters Jerusalem, and the people are spreading their cloaks on the road for Him, His disciples are openly proclaiming Him, and even the Pharisees aren't as critical as normal. As we know, this will all soon change.
That change regarding the attitude of the people toward Jesus speaks to a truth in our own spiritual lives. It is very easy to receive the good news of a King and of salvation. However, it is much more difficult to receive the King's message if it doesn't match our preconceived expectations of what we want. When that happens, we can be tempted to reject that message, the Gospel, just as the people in this passage would eventually do.
Jesus' message requires us to pick up our crosses in imitation of Him. We will be tempted by the world and by others around us to reject the cross. Let us stay strong in our faith and willingly suffer with our Lord, remembering the promise of salvation, and that when we have true devotion, His yoke is easy and His burden is light.
As we enter Holy Week, reflect on how your Lenten journey has gone. No matter where you are spiritually, have confidence that Our Lord loves you now and always will, and that He wants you to know Him fully. Even if your Lenten experience was not what you hoped for, you can always grow closer to Him.
RESPOND:
In this season of Lent, have you done what you can to allow yourself to be drawn closer to the Lord? Has the season been fruitful, or a struggle? Have you been somewhere in between? Resolve to keep up your Lenten practices in this Holy Week and prepare for the passion.
Today's Health Challenge: Rest
Sunday, the day of rest is here! Tonight try and go to bed at a time so you can get 7 hours of sleep.
Get this in your inbox | More information about CURO
CMF CURO is the country's first Catholic health sharing experience. Together with the health sharing ministry Samaritan Ministries International, CMF CURO offers an affordable, Christ-centered alternative to health insurance that is fully consistent with the Catholic faith