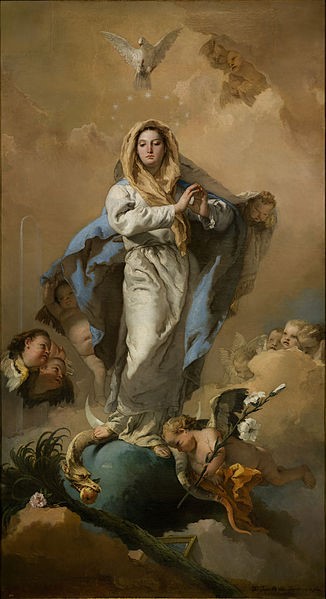 Monday, June 10, 2019

READ:
Standing by the cross of Jesus were his mother and his mother's sister, Mary the wife of Clopas, and Mary of Magdala. When Jesus saw his mother and the disciple there whom he loved, he said to his mother, "Woman, behold, your son." Then he said to the disciple, "Behold, your mother." And from that hour the disciple took her into his home. After this, aware that everything was now finished, in order that the Scripture might be fulfilled, Jesus said, "I thirst." There was a vessel filled with common wine. So they put a sponge soaked in wine on a sprig of hyssop and put it up to his mouth. When Jesus had taken the wine, he said, "It is finished." And bowing his head, he handed over the spirit. Now since it was preparation day, in order that the bodies might not remain on the cross on the sabbath, for the sabbath day of that week was a solemn one, the Jews asked Pilate that their legs be broken and they be taken down. So the soldiers came and broke the legs of the first and then of the other one who was crucified with Jesus. But when they came to Jesus and saw that he was already dead, they did not break his legs, but one soldier thrust his lance into his side, and immediately Blood and water flowed out.
–JN 19:25-34
REFLECT:
As Jesus gazed down from the cross, he caught sight of his Mother and others who loved him. It is in this moment that Jesus gifted the Church with the motherhood of Mary. She became not just the Mother of Christ, but the mother of us all as he instructed his disciple, "Behold, your mother." Jesus not only instructs the disciple but instructs Mary as well as he says "Woman, behold, your son." Jesus establishes a relationship between Mary and the Church through his commandment to both Mary and the disciple.
Just like the disciple who loved Jesus, we too are called to take Mary into our home. By allowing her into our inner life, she can purify our intentions and lift them up to Christ. She is an advocate for each of us in our relationship to Christ as she is closer to Him than any other human being as ever been. We honor her, as through her, our salvation came in Christ Jesus.
RESPOND:
Go to Adoration this week and ask Jesus to show you His blessed mother. Reflect on her sufferings and joys as the Mother of Christ. Ask her into your home.
Today's Health Challenge: Rejuvenate

Today, try to preform 5 min of stretching today!
Get this in your inbox | More information about CURO
CMF CURO is the country's first Catholic health sharing experience. Together with the health sharing ministry Samaritan Ministries International, CMF CURO offers an affordable, Christ-centered alternative to health insurance that is fully consistent with the Catholic faith