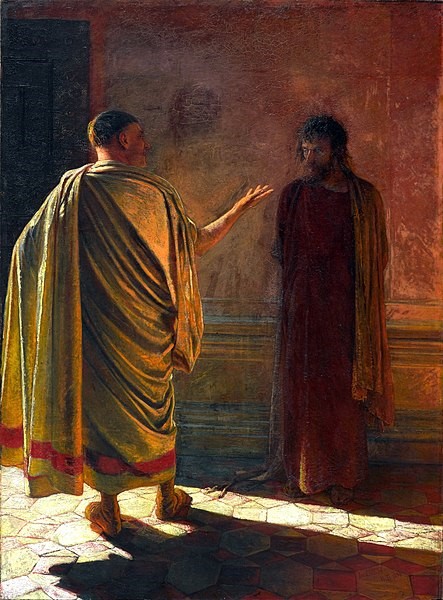 Thursday, June 13, 2019

READ:
Jesus said to his disciples: "I tell you, unless your righteousness surpasses that of the scribes and Pharisees, you will not enter into the Kingdom of heaven. "You have heard that it was said to your ancestors, You shall not kill; and whoever kills will be liable to judgment. But I say to you, whoever is angry with his brother will be liable to judgment, and whoever says to his brother, 'Raqa,' will be answerable to the Sanhedrin, and whoever says, 'You fool,' will be liable to fiery Gehenna. Therefore, if you bring your gift to the altar, and there recall that your brother has anything against you, leave your gift there at the altar, go first and be reconciled with your brother, and then come and offer your gift. Settle with your opponent quickly while on the way to court with him. Otherwise your opponent will hand you over to the judge, and the judge will hand you over to the guard, and you will be thrown into prison. Amen, I say to you, you will not be released until you have paid the last penny."
–MT 5:20-26
REFLECT:
Jesus came to purify the world of sin and darkness. He does this by first working to purify the hearts of men and women. At the time of Jesus, those of faith had come to focus strictly on the letter of the law while forgetting the spirit of the law. Jesus' mission reminds us that if we do great works but do not have love, these works mean nothing. If a man does not commit adultery against his wife outwardly but fantasizes about other women in his heart, his outward actions do not reflect his interior life.
Jesus came so that we may be purified in heart and mind to see God. Jesus desires Christians to be people of integrity and authenticity. Without this, the mission of the Church fails. It is essential that all of us be authentic in our mission so that the Church as whole may reflect a spirit of integrity.
RESPOND:
In what ways can you work to build authenticity in your faith? In an Examination of Conscience, think about the how closely your thoughts and intentions reflect your outward actions and speech. How can you better align all of these to the will of God?
Today's Health Challenge: Relax

As the week comes to an end, make sure that you relax your mind and body from the past week. Try to relax for 15min today!
Get this in your inbox | More information about CURO
CMF CURO is the country's first Catholic health sharing experience. Together with the health sharing ministry Samaritan Ministries International, CMF CURO offers an affordable, Christ-centered alternative to health insurance that is fully consistent with the Catholic faith